Other than brains? Zombies. Heh. And don't ask me to add you if your name or attitude has anything to do with killing zombies, because I won't. Call it my little eccentricity. It irritates me. You'll find I end up on the Zombie side of most conflicts.

Also I won't add any animals/vampires/emos etc, unless you happen to be a zombie version of these. It's ZOMBIEFRIENDS.COM. Get with the theme, please. Serial killer fanatics need not apply either. I won't accept your request. Don't bother.

You can find out a bit more about me by visiting my myspace or checking out my gallery. Anything left unanswered, should be asked. Also, I suppose I should mention that I'm a writer. Short Horror fic mostly (yes, a large portion of that about zombies.)

Want to buy my book? Click Below: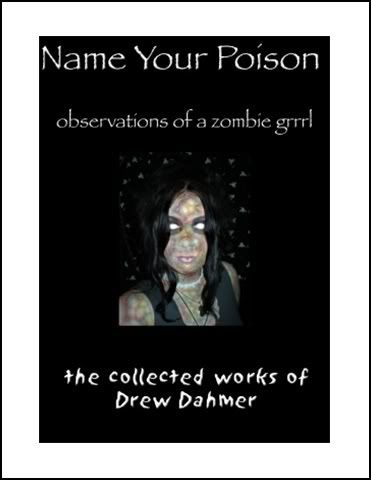 You can also visit me on MySpace:
As for things I am most definitely NOT interested in, well again with the too many to list, but to sum up, not into ignorance, I'm intolerant of intolerance, I don't suffer fools. Gladly or otherwise. Also, I'm really, Really, REALLY not interested in Twilight. No, I haven't read the books, no I haven't seen the movies. I will put that on my list of things I never intend to do along with renting Passion of the Christ. ThanX.
More Zombie Fun:
ZOMBIEWALK.COM
World War Z
All Things Zombie,
Zombies On The Web
What kind of Zombie are you?

You are a Fulci Zombie. The incessant beating of the native drums has awakened you to feed on the living. You're not real clear on why. You feed on living human tissue and can be killed by any sharp blow to the head.
Take this quiz!


Quizilla | Join | Make A Quiz | More Quizzes | Grab Code